(022) 26125906-08


The Kapol Co-operative Bank Ltd.
(Multi-state scheduled bank)
What are you looking for?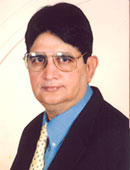 Chairman's Message
Dear friends The Indian banking industry in general and Co-operative banks in particular continue to change at a rapid pace. During the global downturn and the subsequent recovery, co-operative banks played an important role in the economic growth of the country. Today, banks are relentlessly focused on the need to create new products to build better customer relationships and to retain market share.
In the fiscal year of this Annual Report, the business performance of your bank continues to be robust. Your continued support and patronage helped us exceed our targets yet again. This year we posted an impressive performance and the credit goes to all our shareholders, customers, regulatory authorities, and staff members.
The Bank continues to adapt to the changing banking enviroment and adheres to the tradition of providing excellent customer service, with committed staff, loyal clients and the support of shareholders.
All these factors have helped us exceed the growth rate in the co-operative banking sector and continue to set new standards for others to follow.
Over the years, co=operative banks have emerged as an important link in our financial system. They are deeply rooted in local communities. They have been involoved in local development and contribute to the sustainable development of these communities. By increasing banking access in areas or exclusion and foster the economic ability of millions of people. They play an influential role on the economic growth in which they work in and increase efficiency of the internatioal financial systme. Theier specific form of enterprise, relying on the above-mentioned principles of organization, has proven successful both in developed and developing countries.
It is our duty to strengthen the system further so that co-operative banks can reach to the door steps of many poorer people in our country.
I am confident Kapol Bank will continue to fulfill the dreams of millions of people of our country.
K. D. VORA
Chairman